Right angle prisms are used to deflect a light beam with 90 or 180°. Prisms are widly used in optical system, which can reflect, deviate and rotate beams of light as well as dispersing their wavelengths.Right angle prisms are usually coated with Reflective coating when used.It has a larger contact area and 45°, 90° such a typical Angle, so, compared with ordinary mirrors, rectangular prism is easier to install, has better stability and strength for mechanical stress.They are the best choice of optical components for all kinds of devices and instruments.
-UV Fused Silica(JGS1)Right Angle Prism
UV-grade fused silica has high transmittance in deep UV and almost no laser-induced fluorescence (measured at 193 nm), making it an ideal choice for UV to NIR applications.UV fused Silica has a lower refractive index than N-BK7 for a given wavelength.
-N-BK7 Right Angle Prism
Uncoated (350 nm-2 µm), N-BK7 Right angle prisms are an option if you do not need the added benefit of fused quartz.N-bk7 has excellent transmittance in the visible and near infrared parts of the spectrum.In addition, N-BK7 is a viable option for UV applications with wavelengths as low as 350 nm.
-CaF2 Right Angle Prism
Uncoated (180 nm-8 µm), for applications requiring high transmittance in the wavelength range of 180 nm to 8 µm, calcium fluoride right angle prisms are an option.The calcium fluoride material has a low refractive index, ranging from 1.35 to 1.51 in the wavelength range of 180 nm to 8 µm, and also has an extremely high laser damage threshold.Calcium fluoride is also quite chemically inert and has a superior hardness compared to fluorides such as barium fluoride, magnesium fluoride and lithium fluoride.
-ZnSe Right Angle Prism
Uncoated (600 nm-16 µm), zinc selenide is an ideal optical material for use in the range of 600 nm to 16 µm. It is characterized by low absorption including the red band in visible light) and good heat shock resistance.Zinc selenide is well suited for use in carbon dioxide
lasers operating at 10.6 µm, including carbon dioxide lasers aligned with a he-Ne laser
-Ge Right Angle Prism
Uncoated (2-16 µm), germanium is suitable for infrared applications due to its wide transmittance range (2-16 µm) and opacity in the visible spectrum.The material is inert to air, water, alkali and acid (except nitric acid).The transmittance of germanium is greatly affected by temperature.Germanium is almost opaque at 100°C and completely opaque at 200°C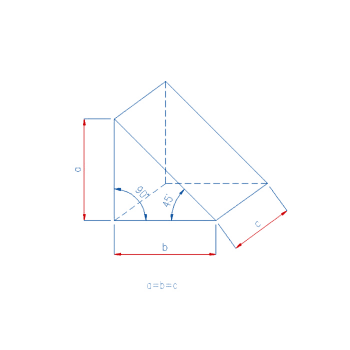 Specifications
| | |
| --- | --- |
| Material | BK7, UV Fused Silica, Sapphire, ZnSe, Caf2, Si, Ge, etc. |
| Size | 0.35mm-600mm |
| Size tolerance | +0.00/-0.05mm or customer request |
| Clear Aperture | >90% |
| S/D | 60-40 40-20 20/10 10/5 |
| Flatness | 1/10lambda at 632.80nm |
| Chamfer | 0.25mmx45° |
| Angle tolerance | <2'', <3'', <30'', <1', <3' |
| Coating | AR, HR, Aluminum, Silver or customer request. |