A plano-concave lens is machined from a plane and a concave sphere.It has a negative focal length, which makes it widely used.In optical system, it is used for beam expansion, projection ray and extension of optical system focal length.Plane-concave lenses can diverge a collimating beam into a virtual focus and are commonly used in Galilean beam extenders. Plane-concave lenses have negative focal length and negative spherical aberration and can be used to offset the aberration of other lenses in the system.H-K9L plano-concave lenses are often used to diverge parallel light and have excellent transmittance from visible to near infrared (350-2000nm), which are widely used in telescopes, lasers and other fields.For optical divergence, if the absolute magnification is less than 0.2 or greater than 5, it is best to choose a plano-concave lens. If it's between these two values, it favors a biconcave lens.In order to reduce spherical aberration, parallel light should be incident on the surface of the plano-concave lens Customer can Choose a variety of coatings.
Sunday is manufacturing plano concave lenses with glass, fused silica, infrared crystal, sapphire materials. with the advance testing machines Sunday can make high precision lenses for customers.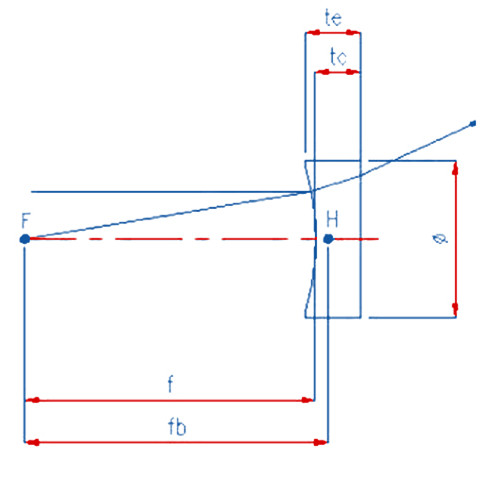 Specifications
Structure: Plano Concave Lens
Material: Optical Glass,BK7,H-K9L,UVFS,Germanium,Silicon,CaF2,MgF2,ZnSe,ZnS,Sapphire.
Dia.0.35-700mm
Dia.Tol.+0.00/-0.01mm
Surface Quality:10-5
Surface Irregulatiry:λ/10 @632.8nm or customer design
Thickness tolerance:+0/-0.02mm
Clear Aperture>90% of diameter
Chamfer:0.05-0.5mm
Centeration<30 arcsec
Coating:Single Mag2, Multiple Layers AR Coating
A: 350-650nm
B: 650-1050nm
C: 1050-1585nm
D: Customer Design
BK7 Standard Plano Concave Lens
| | | | | | | |
| --- | --- | --- | --- | --- | --- | --- |
| No. | EFL(mm) | Dia.(mm) | Radius(mm) | Material | Tc(mm) | Te(mm) |
| SD3A61 | -10 | 6.00 | -5.18 | BK7 | 2.00 | 2.95 |
| SD3A62 | -20 | 6.00 | -10.37 | Bk7 | 2.00 | 2.44 |
| SD3A63 | -30 | 6.00 | -15.56 | BK7 | 2.00 | 2.29 |
| SD3A22 | -20 | 12.70 | -10.37 | BK7 | 2.00 | 4.17 |
| SD3A23 | -30 | 12.70 | -15.56 | BK7 | 2.00 | 3.40 |
| SD3A24 | -40 | 12.70 | -20.75 | BK7 | 2.00 | 3.00 |
| SD3A25 | -50 | 12.70 | -25.94 | BK7 | 2.00 | 2.79 |
| SD3A27 | -75 | 12.70 | -38.90 | BK7 | 2.00 | 2.52 |
| SD3A20 | -100 | 12.70 | -51.88 | BK7 | 2.00 | 2.39 |
| SD3A45 | -50 | 25.40 | -25.94 | Bk7 | 2.00 | 5.32 |
| SD3A47 | -75 | 25.40 | -38.90 | Bk7 | 2.00 | 4.13 |
| SD3A41 | -100 | 25.40 | -51.88 | BK7 | 2.00 | 3.58 |
| SD3A415 | -150 | 25.40 | -77.80 | BK7 | 2.00 | 3.04 |
| SD3A420 | -200 | 25.40 | -103.75 | BK7 | 2.00 | 2.78 |
| SD3A425 | -250 | 25.40 | -129.72 | BK7 | 2.00 | 2.62 |
| SD3A510 | -100 | 50.80 | -51.88 | BK7 | 2.00 | 8.64 |
| SD3A520 | -200 | 50.80 | -103.75 | BK7 | 2.00 | 5.16 |
| SD3A530 | -300 | 50.80 | -155.60 | BK7 | 2.00 | 4.00 |
| SD3A550 | -500 | 50.80 | -259.40 | BK7 | 2.00 | 3.25 |