G2 lens Collimator Lens EFL4.02mm
Collimating lens is an instrument that converts light from each point in the aperture column into a parallel column of collimating light.Lens type depends on aberration requirements,For low requirements, simple lenses, such as flat convex or double convex lenses, maybe used and a larger relative aperture is allowed.High requirements,Achromatic lens will be use, the relative aperture is also appropriately reduced.Collimator lens is one of the mainly products in Sunday. We have standard ones and also accept customer-made. Sunday has collimator lens with single aspheric, doublet lenses, triplet lenses.
Product Details
Collimator Lens EFL4.05mm, made by optical glass aspheric lens.
The length can be6.5mm,8mm,10mm,14mm or customized. the Diameter can be customized. M9*0.5 M10*0.5
When you need other wavelength, please contact us freely.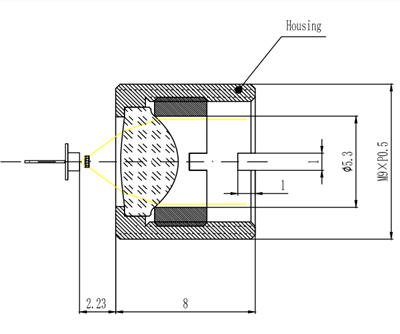 Mount Size:M9*P0.5*8mm
Lens Material:D-ZK3
Design Wavelength:445nm
Focal Length:4.05mm
NA:0.6
Working Distance:2.23mm
CA:5.3mm
Transmission>95%
Coating:BBAR 400-700nm