Silicon Lens
Silicon Has Good transmission at 1-7um. It is widely used for 3-5um infrared windows and lens.
Product Details
Monocrystalline silicon is an infrared material with excellent cost performance.It can be divided into Transmissive Grade and Mirror Grade.As a transmittance material, ocZ-SI is widely used in the mid-infrared (1-6um) band, and the infrared transmittance is more than 50%. Monocrystalline silicon can be used in a wider band (1--14um), and high purity zonal fused monocrystalline silicon (HPFZ-Si) can even be used in the far infrared band (greater than 30um).
Silicon single crystal is also an excellent laser reflector material.Compared with other mirror materials such as copper and molybdenum, silicon single crystal is the preferred substrate material for CO2 laser mirrors due to its advantages of good thermal conductivity, excellent thermal stability, low thermal expansion coefficient, relatively low density, low cost, easy precision processing and so on.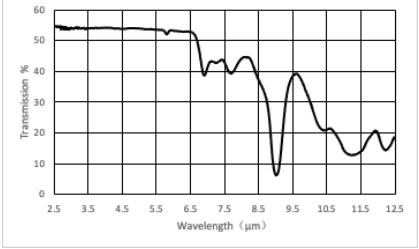 Refractive index range(20℃)
| | | | |
| --- | --- | --- | --- |
| Wavelength(nm) | Refractive index(n) | Wavelength(nm) | Refractive index(n) |
| 1357 | 3.4975 | 4000 | 3.4257 |
| 1367.3 | 3.4926 | 4258 | 3.4245 |
| 1395.1 | 3.4929 | 4500 | 3.4236 |
| 1529.5 | 3.4795 | 5000 | 3.4223 |
| 1660.6 | 3.4696 | 5500 | 3.4213 |
| 1709.2 | 3.4664 | 6000 | 3.4202 |
| 1813.2 | 3.4608 | 6500 | 3.4195 |
| 1970.2 | 3.4537 | 7000 | 3.4189 |
| 2152.6 | 3.4476 | 7500 | 3.4186 |
| 2325.4 | 3.443 | 8000 | 3.4184 |
| 2714.4 | 3.4358 | 8500 | 3.4182 |
| 3000 | 3.432 | 10000 | 3.4179 |
| 3303.3 | 3.4297 | 10500 | 3.4178 |
| 3500 | 3.4284 | 11040 | 3.4176 |
Manufacture Specifications
| | |
| --- | --- |
| Diameter | 3mm to 280mm |
| Diameter Tol. | +0.00/-0.05 |
| Surface Quality | 40-20 standard |
| Flatness | 1/10 lambda |
| Chamfer | 0.25mmx45degree |
| Wedge | <1arcmin |
| Coating | 3-5um |