H-K9L Bi Convex Lens
Double convex lens has two convex focal length which used for various applications such as magnifying, optics and laser systemsSunday can manufacture double convex lenses with two equal radius or two different convex radius
Product Details
The H-K9L Bi convex lens has excellent transmittance from visible to near infrared (350-2000nm) and is commonly used in limited imaging applications.H-K9L(N-BK7) is a commonly used optical glass for the preparation of high-quality optical elements. When the additional advantages of UV melting quartz (good transmittance and low thermal expansion coefficient in the UV band) are not needed, H-K9L is generally selected.Double convex lenses are suitable for objects and images on either side of the lens, and the ratio of the image distance to the object distance (conjugate ratio) is between 0.2 and 5.Customer can Choose a variety of coatings.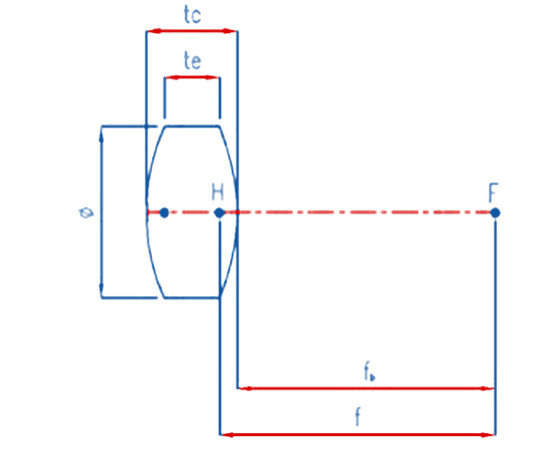 Specifications
Structure: Bi Convex Lens
Material: Optical Glass,BK7,H-K9L,UVFS,Germanium,Silicon,CaF2,MgF2,ZnSe,ZnS,Sapphire.
Dia.0.35-700mm
Dia.Tol.+0.00/-0.01mm
Surface Quality:10-5
Surface Irregulatiry:λ/10 @632.8nm or customer design
Thickness tolerance:+0/-0.02mm
Clear Aperture>90% of diameter
Chamfer:0.05-0.5mm
Centeration<30 arcsec
Coating:Single Mag2, Multiple Layers AR Coating
A: 350-650nm
B: 650-1050nm
C: 1050-1585nm
D: Customer Design
Bk7 Standard Double Convex Lens
| | | | | | | |
| --- | --- | --- | --- | --- | --- | --- |
| No. | EFL(mm) | Dia.(mm) | R1=R2(mm) | Material | Tc(mm) | Te(mm) |
| SD2A125 | 20 | 12.70 | 20.01 | Bk7 | 4.00 | 2.00 |
| SD2A125 | 50 | 12.70 | 51.35 | Bk7 | 2.79 | 2.00 |
| SD2A127 | 75 | 12.70 | 77.30 | BK7 | 2.60 | 2.00 |
| SD2A120 | 100 | 12.70 | 103.25 | BK7 | 2.40 | 2.00 |
| SD2A252 | 25.40 | 25.40 | 24.712 | BK7 | 9.00 | 2.00 |
| SD2A255 | 50.00 | 25.40 | 50.92 | BK7 | 5.20 | 2.00 |
| SD2A257 | 75.00 | 25.40 | 77.09 | BK7 | 4.11 | 2.00 |
| SD2A250 | 100 | 25.40 | 103.04 | BK7 | 3.57 | 2.00 |
| SD2A252 | 200 | 25.40 | 207.00 | BK7 | 2.78 | 2.00 |
| SD2A25B | 250 | 25.40 | 258.90 | BK7 | 2.62 | 2.00 |
| SD2A25C | 500 | 25.40 | 508.30 | BK7 | 2.31 | 2.00 |